National Weather Service Alerts for Frederick County, MD
Welcome to The Brunswick Volunteer Fire Company Inc.
Chief: George R. Clary, Jr.
President: Todd Webber
---
EFFECTIVE IMMEDIATLEY, FRIDAY NIGHT BINGO HAS BEEN CANCELED. SORRY FOR ANY INCONVENIENCE.
2019 SPORTSMAN'S CALENDAR
ONLINE CALENDAR SALES ARE CURRENTLY OUT OF STOCK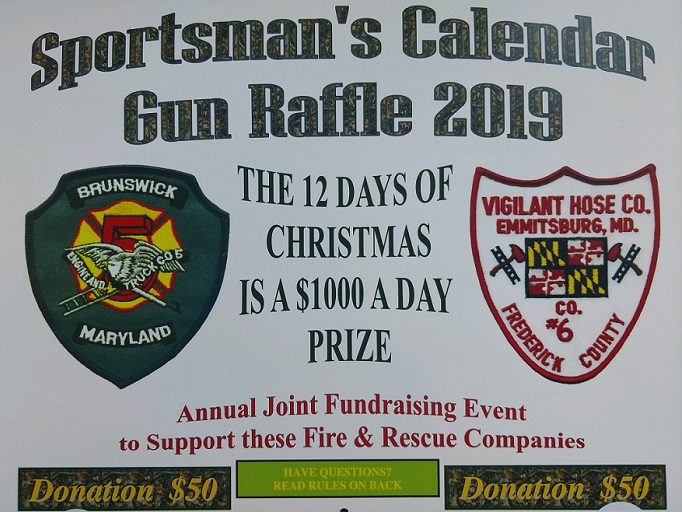 The Brunswick & Emmitsburg Vol Fire Companies are the original Sportsman Calendar creators. Our calenadrs have been for sale for over 10 years. Please continue to support the Brunswick and Emmitsburg Vol Fire Comapnies with this fundraiser. Thank You.
CLICK HERE TO ORDER OR FOR MORE INFORMATION
---
Click HERE for more infomation on upcoming events.
---
CHECK OUT THE UPCOMING EVENTS WHICH ARE LOCATED IN THE EVENTS TAB ON THE LEFT SIDE
---
Kix

Chief George Clary, December 21

Kix will be once again rocking the BVFD on Friday Dec 21st with special guests SilverTung. Online ticket sales will begin on or about Nov 1st.... (Full Story)




Reminder

Member Jessica Webber, October 08

Just a reminder there is no bingo this Friday Oct 12th 2018, Please still come out and have fun with the Dakota James Foundation event Friday evening featuring Reagan Years Preforming. Hope to you see you there ... (Full Story)




No BINGO this week!

Member Jessica Webber, September 20

Just a reminder no bingo this week hope to see you back next Friday Sept 28th!!! Have a awesome weekend and if you can join us for I ❤️The 80's Bash this Friday!!... (Full Story)




NO BINGO ON SEPT 14TH, 2018

Member Jessica Webber, September 10

Due to the Inclement weather with the hurricane, Governor Larry Hogan has issued a state of Emergency,we will not have bingo this Friday Sept 14th, 2018 thank you for understanding we will see you back on Friday Sept 28th 2018... (Full Story)




2 Alarm fire at Sheetz

May 12

On May 2nd, a building fire was dispatched for the Sheetz gas station in Brunswick. First arriving E51 went on the scene with heavy smoke from all side of the building and requested a 2nd alarm. E51 along with T5 made an aggressive interior attack while a hose line was placed on Side "D" of the building where the fire started. C5-1 arrived and took over command while the crews worked to extinguish ... (Full Story & Photos)

Serious Crash on RT340

February 01

On the morning of Thursday, February 1st, RE52 was on the way to a medical call as the blocking unit for a sick person on RT340 and Keep Tryst Rd. As they were going west on RT340, they looked over on the east bound lane and witnessed a car being rear-ended by a pickup truck at a high rate of speed. They cleared from the 1st call and turned around to respond to the crash. As RE52 arrived, they found ... (Full Story & Photos)

Fire at Wing and Pizza Shack, 100 Souder Rd

December 13

A little after 1200pm, a fire was reported at the Wing and Pizza Shack on Souder Rd. First arriving units found smoke showing from side "C" of a building behind the Wing and Pizza Shack. Access was made from 1200 N Maple Ave were C5-1 reported a brush fire that extended inside a 40'x60' building. The fire made its way inside and through the roof as crews were putting lines in service to attack the ... (Full Story)




Fatal House Fire in Lovettsville

December 10

Just before 8:30pm, Company 5 was dispatched for a report of a house fire with people trapped in the 12200 blk of Taylorstown Rd in Lovettsville. First arriving units had fire throughout the house and attempted to make entry to locate the victim. Command almost immediately pulled everyone out of the house due the roof and floor collapse. E51 arrived and gave T612 all of their water while the crew ... (Full Story & Photos)