Welcome to The Brunswick Volunteer Fire Company Inc.
Chief: George R. Clary, Jr.
President: Todd Webber
---
2018 SPORTSMAN'S CALENDAR
ONLINE CALENDAR SALES ARE CURRENTLY OUT OF STOCK AND CURRENTLY NOT FOR SALE. PLEASE CHECK BACK OFTEN TO SEE WHEN THEY BECOME AVAILABLE.
CLICK HERE TO ORDER OR FOR MORE INFORMATION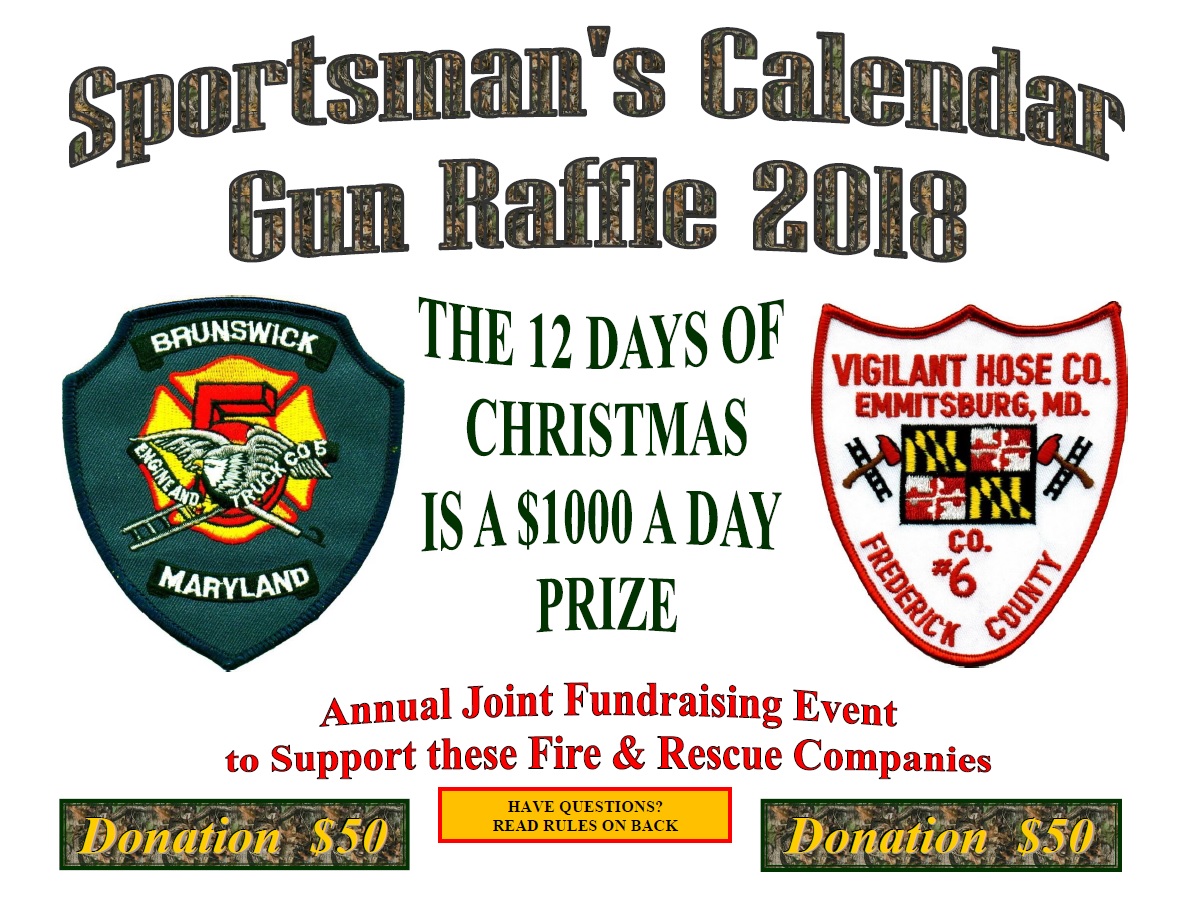 ---
CHECK OUT THE UPCOMING EVENTS WHICH ARE LOCATED IN THE EVENTS TAB ON THE LEFT SIDE
---
TO PURCHASE KIX TICKETS, CLICK ON THE LINK BELOW.
KIX!

December 22

The Brunswick Vol Fire Company once again presents......Kix ! with special guest's SilverTung!

Friday Dec 22.

General admission tickets will be $30 (not on sale until on or about Nov 1st)

Cash Bar......NO BYOB

This is an 18 and over show!

Kitchen open

Doors will be at 8PM with the show starting at 9PM
... (Full Story & Photos)

Santa Claus Tours the City

December 12

The Brunswick Volunteer Fire Company will once again help Santa Claus tour the City of Brunswick to greet residents before Christmas. His tour will be made on Monday, December 11 and Tuesday, December 12, beginning around 5:30pm.

While it is not possible to cover every street in town, the fire company has mapped out a route that seems the best. You may have to go to one of the closest intersections ... (Full Story & Photos)

Santa's Little Shindig

December 02

On December 2nd, Brunswick Fire Company will be hosting Santa's Little Shindig from 8am - 3pm. Santa will arrive at 9 and stay till Noon.

The cost is $5 per person, with children under 3 free.

Vendors will be on site for gift purchases.

Food includes:
Pancakes
Eggs
Sausage
Biscuits and Gravy
Bacon
Toast
Potatoes
OJ, Milk, Water, and Coffee
Parked cars hit by Minivan on RT 17 at W. B St

October 12

On Thursday, October 12th, Company 5 was alerted to a vehicle collision with entrapment at the intersection of RT 17 and W. B St. RE52 and C5 arrived to find a 5 car collision resulting from a single vehicle crashing into 4 parked cars. C5 had the command and crews located and treated 1 patient for serious but not life threatening injuries who wasn't trapped. The patient was going to be flown to the ... (Full Story & Photos)

Serious Crash on Jefferson Pike

October 08

Around 915pm, company 5 was dispatched for a collision in the 1100 blk of Jefferson Pike. C19-1 arrived with a single vehicle crash, over turned and on fire. Upon investigation, all occupants were out of the car and C19-1 had command. It was determined the vehicle left the roadway and hit 2 trees and a fence, then flipped on it's roof and caught fire. A total of 4 patients were treated, 2 serious ... (Full Story & Photos)

Crash in Town

July 09

On July 9th around 0920hrs, Station 5 was alerted to a vehicle collision at the intersection of E Potomac Sta and N Maple Ave. RE52 and C5 arrived on the scene with a 2 vehicle collision with 1 vehicle into the building. LCA612B arrived and took over pt care while RE52 checked out the car and building for damage. Minor damage was found to the building and one patient was transported to the hospital. ... (Full Story & Photos)

Serious Crash with Rollover and Ejection on Jefferson Pike

July 03

In the evening of Monday, July 3rd, Company 5 was dispatched for a crash with ejection in the 600 blk of Jefferson Pike. Upon arrival, units found a single vehicle that rolled over and hit the guardrail and telephone pole. The single occupant was ejected from the truck and in serious condition. On scene units called for the helicopter to transport the pt to a trauma center. ... (Full Story & Photos)

Car Fire at Southern States

July 02

On the morning of Sunday, July 2nd, Company 5 was dispatched for a car fire in the parking lot of Southern States. Upon arrival, C5 reported a car well involved. RE52 arrived and the crew stretched a hand line to extinguish the fire. The fire was quickly brought under control. No one was hurt in the fire. ... (Full Story & Photos)